"Hello! My name is Adam and I have been Raquel's student and I have only good words to say about her classes. In other classes I learned Spanish by doing more grammar and exercises, but I was afraid of speaking in a conversation and making mistakes. With Raquel, my level of Spanish has improved a lot thanks to her conversation-focused and dynamic classes. Raquel made me feel much more comfortable speaking Spanish and I gained a lot of confidence and self-assurance. I also understood the grammar much better, as we practised it in context. I would especially like to mention that she is a teacher who really cares about the student. She always asked me how I felt about the content of the lessons and adapted it to my specific needs. She creates the best environment for learning and this is what makes her special and so unique. So if you want to improve your Spanish look no further, I can assure you that with Raquel you will achieve your goals and lose the fear of speaking."
"¡Hola! Me llamo Adam y he sido alumno de Raquel y solo tengo palabras buenas sobre sus clases. En otras clases aprendía español haciendo más gramática y ejercicios, pero a mi me daba miedo hablar en una conversación y hacer errores. Con Raquel, mi nivel de español ha mejorado mucho gracias a sus clases enfocadas a la conversación y dinámicas. Raquel me hizo sentirme mucho más cómodo hablando en español y gané mucha confianza y seguridad. También entendí mucho mejor la gramática, ya que la practicábamos en contexto. Me gustaría mencionar especialmente que es una profesora que se preocupa realmente por el alumno. Siempre me preguntaba como me sentía con el contenido de las clases y lo adaptaba a mis necesidades específicas. Ella crea el mejor ambiente para aprender y esto es lo que la hace especial y tan única. Así que si quieres mejorar tu español no busques más, te puedo asegurar que con Raquel lograrás tus objetivos y perderás el miedo a hablar."
Adam Mahmoud
Newcastle upon Tyne
"Hello everyone! My name is James and Raquel was my Spanish teacher, and thanks to her I got the B2 level in Spanish. She is an excellent teacher, I highly recommend her!"
"¡Hola a todo el mundo! Mi nombre es James y Raquel fue mi profesora de español, y gracias a ella conseguí el nivel B2 en español. Es una profesora excelente. ¡La recomiendo!"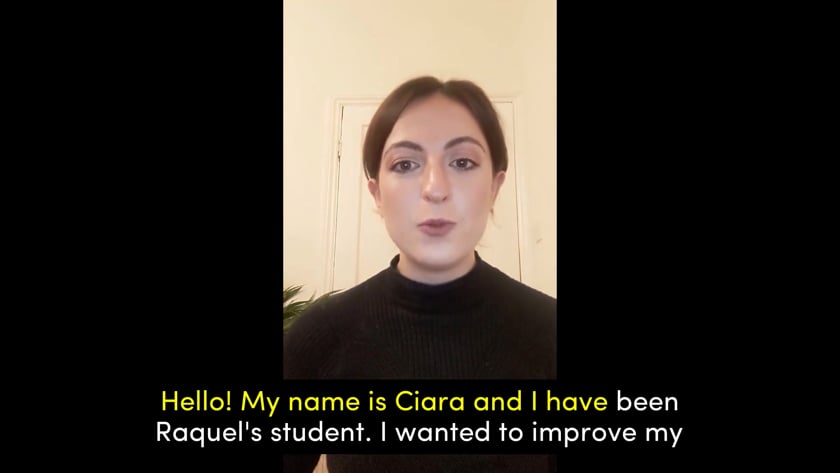 "Hello! My name is Ciara and I have been Raquel's student. In 3 months I have improved more than in an entire year with my previous lessons. I wanted to improve my Spanish because I was working with companies in South America and I felt that I couldn't communicate well with them. With Raquel my Spanish improved significantly. I discovered fascinating things about the hispanic culture and I gained a lot of fluency in Spanish. Now I can express myself with much more confidence and self-assurance. Also, I don't worry so much about making mistakes and people tell me that I have improved a lot. Grammar has always been more difficult for me and Raquel helped me to understand it by practicing it in conversation and with real examples. Her classes were always super fun and varied. We had a great time. Raquel is a super fun and enthusiastic person. You will never get bored with her. I recommend her classes without any doubt."
"¡Hola! Me llamo Ciara y he sido alumna de Raquel. Quería mejorar mi nivel de español porque trabajaba con empresas en sudamérica y sentía que no podía comunicarme bien con ellos. Con Raquel mi español mejoró significativamente, gané mucha fluidez en español y ahora puedo expresarme con mucha más confianza y seguridad. Además, ya no me preocupo tanto de si cometo errores y la gente me dice que he mejorado mucho. La gramática siempre ha sido más difícil para mi y Raquel me ayudó a entenderla practicándola en conversación y con ejemplos reales. Sus clases siempre fueron super divertidas y variadas. Nos lo pasamos muy bien. Raquel es una persona súper divertida y entusiasta. No te aburrirás nunca con ella. Te recomiendo sus clases sin ninguna duda."
"Raquel is an amazing teacher!!! She is very kind and encouraging. Her classes were always very interesting and organized within a super relaxed and non-judgmental environment. I highly recommend Raquel to anyone who wants a fun experience learning Spanish. Thank you Raquel!"
"Raquel es una profesora increíble!!! Es muy amable y alentadora. Sus clases siempre fueron muy interesantes y organizadas dentro de un ambiente súper relajado y sin prejuicios. Recomiendo a Raquel a cualquiera que quiera una experiencia divertida aprendiendo español. Gracias Raquel!"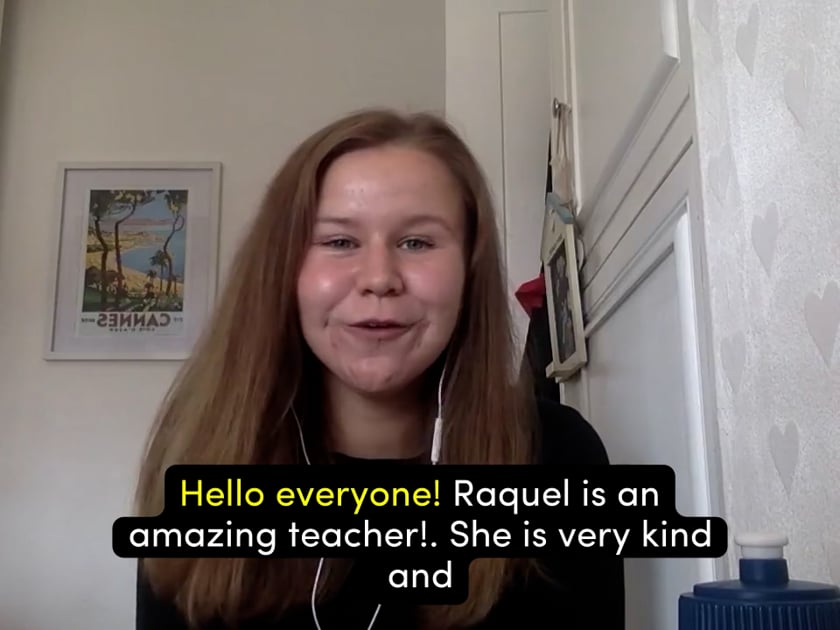 "Hello, my name is Philip and I am from England. Raquel was my teacher for a year and she helped me a lot with the more difficult parts of the grammar of the language, but also with the more conversational Spanish, idioms, and expressing myself the way native speakers express themselves. I have been able to use the knowledge and skills from her classes in the real world speaking with native people and I am very grateful to have had her as a teacher. Raquel is fantastic. She brings a lot of energy to her classes, and has a lot of patience and experience. I would definitely recommend her to anyone who wants to see real changes in their Spanish learning."
"Hola! Me llamo Philip y soy de Inglaterra. Raquel fue mi profesora durante un año y me ayudó mucho con las partes más difíciles de la gramática del idioma, pero también con el español más conversacional, las frases hechas, y expresarse como se expresan los nativos. He podido utilizar los conocimientos y habilidades de sus clases en el mundo real hablando con gente nativa y estoy muy agradecido de haberla tenido como profesora. Raquel es fantástica. Aporta mucha energía a sus clases, y tiene mucha paciencia y experiencia. La recomendaría sin duda a cualquiera que quiera notar cambios reales en su aprendizaje del español."
Philip Taylor
staffordshire
"Hello, my name is Seraphine and I would like to recommend Raquel as a Spanish teacher. 
Her classes are very well organized and are very useful to improve your fluency and to learn grammar without realizing it.
In addition, the videos, resources and materials she uses are very well structured and as I have already said are very useful.
Raquel as a person is a very funny person, she always encourages you to speak, and thanks to her I now sound more like a local, I recommend her without a doubt!"
"¡Hola! ¿Qué tal? Mi nombre es Seraphine y quiero recomendarte Raquel como profesora de español. 
Sus clases son muy bien organizadas y son muy útiles para mejorar tu fluidez y para aprender la gramática sin darte cuenta.
Además, los videos, recursos y materiales que ella usa son muy bien estructurados y cómo ya he dicho son muy útiles.
Raquel como persona es una persona muy divertida, siempre te anima a hablar, y gracias a ella ahora puedo hablar como una nativa. ¡La recomiendo sin duda!"
Seraphine Mackie
siena, italy
Raquel taught me Spanish at International House, Newcastle in 2019. I had just moved back from Sevilla and wanted to keep on top of my Spanish – she was amazing with helping me to do so! She provided lots of interesting activities and learning exercises for individual and group scenarios. I learnt a lot, not only about the language, but also about Spanish & Latino cultures as well which was really interesting. There was never a dull moment, she is an amazing teacher who I highly recommend. ¡Gracias por enseñarme!
Esmé Stephenson
Newcastle, UK
I was really pleased having Raquel as my teacher, I was with her for about a year. We did mainly oral classes and she corrected me at almost every mistake I made which was really useful and necessary. She also taught me many aspects of the grammar that I could include in my Spanish conversations. Furthermore, I learnt a lot of slang and expressions which was really useful for when I moved to Spain. I would recommend her to anyone! I can now talk about many topics and I no longer feel stuck or nervous about talking Spanish. I found the classes very amusing, completely personalized and full of interesting and relevant topics. It is important to me that we talk a lot about everyday things and situations. I could see my progress every week and my Spanish friends notice it too. Thank you Raquel
"Raquel was a very motivated and kind teacher who always helped us a lot. I'm sure she will help you as much as she helped me."
"Raquel era una profe muy motivada y amable que siempre nos ayudaba muchísimo. Aseguro que te ayudará mucho como me ayudó a mi."
Will Babbington
London, uk
"I loved working with Raquel. She has a very friendly disposition and is naturally charismatic and positive. When I struggled with something difficult to understand, she gave me the confidence I needed to move forward. Raquel has a natural empathy and innate aptitude for teaching. She is also very organized and professional. I would sincerely recommend her to anyone interested in improving their Spanish."
"Me encantó trabajar con Raquel. Tiene una disposición muy amistosa y es naturalmente carismática y positiva. cuando tuve problemas con algo difícil de entender, me dió la confianza que necesitaba para seguir adelante. Raquel tiene empatía natural y aptidud ínnata en la enseñanza. Además, es muy organizada y profesional. Sinceramente, la recomendaría a cualquier persona interesada en mejorar su español."
Pedro Gaio
South Hiendley
"Lessons with Raquel were always interesting and engaging. The encouragement to use target language continuously throughout lessons meant that we gained confidence when speaking Spanish. This has been something I myself have stolen when teaching Spanish to my pupils."
Shauna Armstrong
Hull, uk
"Raquel is a very talented and highly knowledgeable teacher with a real passion for her work. She is a pure joy to be around, and always makes conversation feel very natural."
Raquel was my Spanish teacher and her classes were definitely the best. She was very encouraging and friendly, and it was very helpful to learn conversational and real Spanish, rather than just learning textbook Spanish. She was a fantastic teacher and I would recommend her to anyone!
Raquel fue mi profesora de español y sus clases definitivamente fueron las mejores. Fue muy alentadora y simpática, y fue muy útil aprender español conversacional y real, en lugar de solo aprender el español de los libros de texto. ¡Fue una profesora fantástica y la recomendaría a cualquiera!
Raquel is a very good teacher. She has helped me to understand the Spanish language and culture more deeply and above all to gain more confidence to speak Spanish fluently. She is very patient and friendly and her classes are fun and dynamic. I would definitely recommend Raquel as a Spanish teacher!
Raquel es una profe muy buena. Me ha ayudado a entender el idioma y la cultura española más profundamente y sobre todo ganar más confianza para hablar español con fluidez. Ella es muy paciente y simpática y sus clases son divertidas y dinámicas. Sin duda, recomendaría a Raquel como profesora de español!
«I'm learning Spanish because I moved to Spain this year for work. Raquel gives you practical tips and advice for speaking in the real world, motivation to keep learning, keep practicing, and keep SPEAKING!»
– Simone Klein, South Africa –
«I have studied Spanish before and my knowledge of Spanish was very passive, I was not feeling confident enough to speak, to use it. But now with Raquel the main focus is speaking. I feel like I finally get to use my knowledge from before in practice.»
– Wiktoria, Poland –
«I'm learning Spanish because I moved to Spain this year for work. Raquel gives you practical tips and advice for speaking in the real world, motivation to keep learning, keep practicing, and keep SPEAKING!»
– Simone Klein, South Africa –
Raquel was such a huge help throughout my beginners spanish course! She helped me gain so much confidence throughout the year, whilst making Spanish really fun and exciting to learn! Every speaking lesson allowed me to practice and learn new skills through a variety of methods including games and fun conversations! Including helpful advise to help me improve and excel within the language! I highly recommend Raquel to anyone looking to learn or improve their Spanish! You won't be disappointed at all! 
Very personable and her lessons are never boring ! I had conversation classes with her during 5 months and this really boosted my ability to speak Spanish! Absolutely recommendable!
"During the two years that Raquel has taught me, she has not only improved my Spanish, but also increased my confidence and spontaneity in speaking it. Her teaching style is incredibly effective and each lesson was engaging and fun. Raquel herself is very supportive, encouraging, and friendly, and I would recommend her to anyone in a heartbeat."
"Durante los dos años que me ha enseñado Raquel, no solo ha mejorado mi español, sino que también ha aumentado mi confianza y espontaneidad en hablarlo. Su estilo de enseñanza es increíblemente efectivo y cada lección fue cautivadora y divertida. Raquel misma es muy comprensiva, alentadora, y simpática, y la recomendaría a cualquiera en un santiamén."
Raquel taught me Spanish for 2 years and she was a great teacher! My Spanish improved a lot and I gained a lot of confidence to speak the language. She corrected mistakes I made and encouraged me to improve and use different verb tenses or more complex vocabulary that I hadn't used before.
Raquel me enseñó español durante 2 años y fue una gran profesora! Mi español mejoró mucho y gane mucha confianza para hablar el idioma. Ella corregía errores que hice y me animaba a mejorar y utilizar diferentes tiempos verbales o vocabulario más complejo que no había utilizado antes.
"I was always made to feel welcomed and I could approach her with any concern I had about the work. Her lessons kept me interested and engaged. I really enjoyed coming to class which gave me more confidence to speak in Spanish during the lesson."
Antonia Azocar-Nevin
Hexham
Raquel was a fantastic teacher and is so patient with her students. She always found the time to help those who needed it and was able to push those who were already talented even further. She prepared plenty of useful materials for her classes and was very approachable and helpful if you had questions.
Joseph Bucknall
Bournemouth
Raquel is a wonderful, fun and energetic teacher. Each lesson was well thought through, entertaining and importantly provided all you'd need to learn a language. Grammar, lots of spoken practice and even a bit of colloquial Spanish for good measure
 Hoy en día trabajo en México produciendo vinos en Jalisco, sin las clases con Raquel no podría sobrevivir aquí 
también ahora tengo muchos más amigos que son hispanohablantes entonces ambos mi vida professional y personal han sido mejorados
Tommy Winstanley
Newcastle
Book your first lesson free
You will be speaking Spanish once and for all!
Fill out the form below so that I can analyse your situation and get in touch with you as soon as possible.
I wish to inform you that the personal data that you provide to me by filling out this form will be processed by Nuria Juárez as person responsible for this website. You may exercise the rights of access, rectification, limitation or suppression of your data by sending an email to hello@thespanishtribe.com